Introduction
After
Amazon is already well-positioned for the Christmas season with the e-book reader Paperwhite 2, now new models of the Kindle Fire series follow. Using high-resolution displays and fast processors Amazon competes against the competition in the form of the 2013er Nexus 7 or the iPad mini with Retina display.
Amazon chooses a strategy similar to Google and offers the tablets at comparatively low prices. The question is whether the new Kindle Fire HDX are just a sales platform for the world of Amazon, or at least a serious alternative, we go in this test.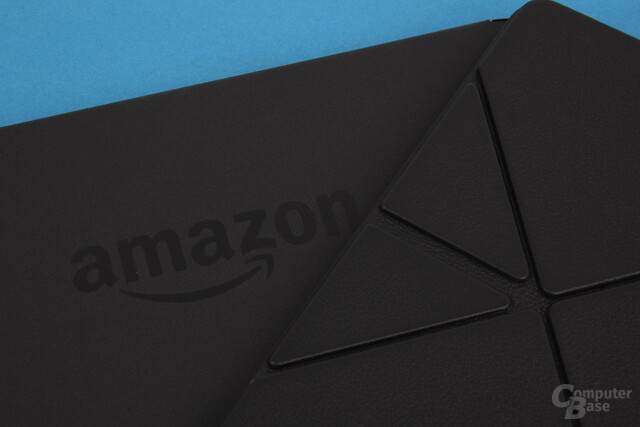 Amazon Kindle Fire & HDX HDX 8.9
Specifications
Amazon Kindle Fire HDX (16 GB, WiFi)
Amazon Kindle Fire HDX 8.9 (16 GB, WiFi)
Software:
Fire OS 3.0
Fire OS 3.0


display:
7.00 inches
1920 × 1200, 323 ppi IPS

8.90 inches
2560 × 1600, 339 ppi IPS



Operation:
Touch
Touch


SoC:
Qualcomm Snapdragon 800
2.20 GHz, 4 cores, 28 nm
Qualcomm Snapdragon 800
2.20 GHz, 4 cores, 28 nm


GPU:
Adreno 330
450 MHz
Adreno 330
450 MHz


RAM:
2048 MB
2048 MB


Memory:
16 GB
16 GB


Camera:

No No
8.0 MP, 1080p LED
, f / 2.2, AF


Front Camera:
0.9 MP, 720p
0.9 MP, 720p


GSM:
No
No


UMTS:
No
No


LTE:
No
No


WLAN:
802.11 a / b / g / n
Wi-Fi Direct, Miracast
802.11 a / b / g / n
Wi-Fi Direct, Miracast


Bluetooth:
4.0
4.0


location:
No
No


Other standards:
Micro USB 2.0
Micro USB 2.0


SIM card:
–
–


SAR value:
–
–


Battery:
4,550 mAh

(17.29 Wh)


permanently installed

mAh
permanently installed


Size (W × H × D):
186.0 × 128.0 × 9.00 mm
231.0 × 158.0 × 7.80 mm


Weight:
303 g
374 g
Design & Processing
Both the Kindle Fire and the Kindle Fire HDX HDX 8.9 are similar in design to the already tested by us Kindle Paperwhite 2 The appearance of the Amazon tablet falls out very simply, nothing distracts from their primary responsibilities. Internally fitted with magnesium unibody and manufactured entirely outside of plastic go in both HDX, as the White Paper 2, the pages in rubberized back surfaces over which make the tablet well and securely in the hand. Here can be found with the Amazon logo the only directly visible indication of the origin of the tablets.
Amazon Kindle Fire & HDX HDX 8.9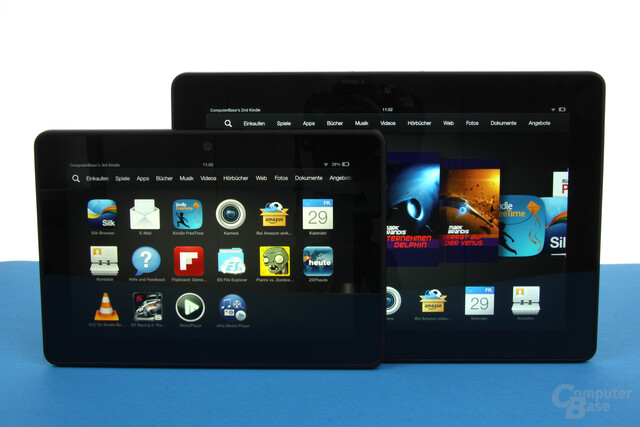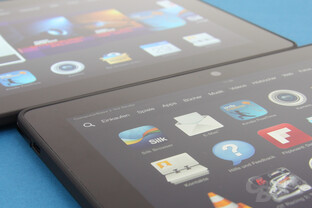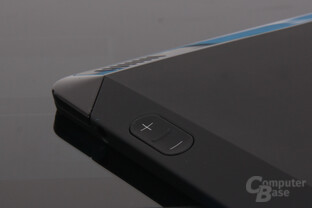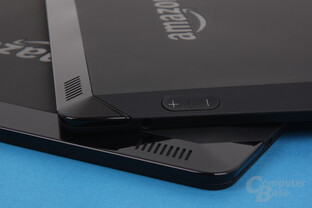 held in landscape mode are located above the rear made of plastic strips made, which house the 8.9 speakers, microphones and HDX, the rear camera along with LED flash. Something deep seated power button on the left and the volume control on the right side. This placement brings both advantages and disadvantages: held in his hand the keys can be achieved without changing the grip, lying on the table the Fire HDX but must be raised to achieve. The keys themselves are firm and offer good pressure points, further controls are not available.
Amazon Kindle Fire & HDX HDX 8.9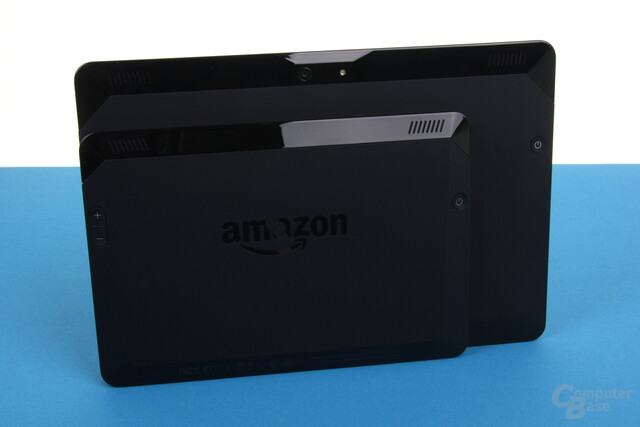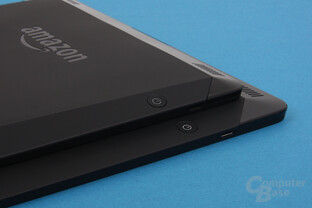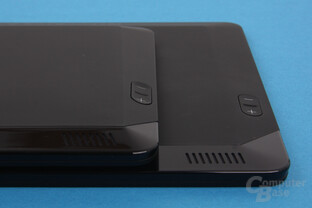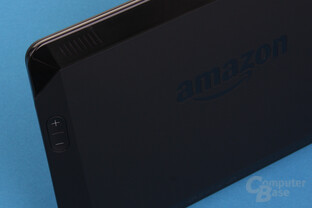 hardware interfaces both tablets offer only a micro USB and a headphone port, which are located on the left or right side. About an SD slot for memory expansion has neither type of device.
The clearances of the new Amazon tablets are small and evenly. Even if the new Kindle Fire models and the new White Paper readers have been designed to each other, the tablets with the manufacturing quality of the e-book reader can not quite keep up. When HDX 8.9 already low enough pressure on the housing to creak this.