It has to be long-term benefits in the United States. One of them: you have to test purposes to Kindle Unlimited, the "flat rate" from Amazon, which was gelaunched last week on Friday. I have looked Unlimited time and matched with my reading habits. To anticipate: the same for me the offer in its current form is useless
Amazon offers its customers in the United States for U.S. $ 9.99 a month unlimited access to over 600,000 Kindle books. In addition, 2,000 audiobooks refine the offer. Sounds far as not at all bad. Here in the U.S. is the talk of the "Netflix for books," I say rather "Spotify for Books"
For Amazon Kindle Unlimited was introduced.
Currently, the offer only applies in the United States. Amazon writes:
blockquote
We're sorry. Kindle Unlimited is currently only available for U.S. customers. Please visit us again When it is available in your country.
There is the advantage here in the U.S. to be. The staff here know someone who knows one. So here's my first impression of Kindle Unlimited: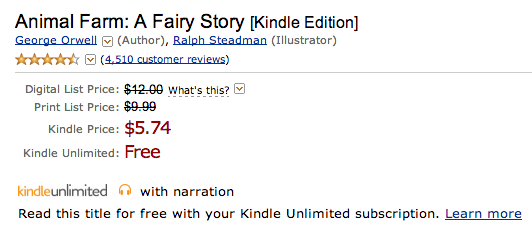 600.000 books … Wow! That sounds like a lot and it is certainly more than I'm going to read over the next 50 years. But it is not only the question of how many books you read, but whether the right people are available. In the U.S., approximately 2.7 million books on Amazon are available. If one knows this only once, then the 600k are also not quite as impressive, after all, it's not even a quarter of available books on Amazon is. Note: The competitors of Kindle Unlimited, Oyster and Scribd, come up with about 500k and 450k books on some less choice
Whether Kindle Unlimited for someone is useful or not, depends on the personal reading habits. For my test, the offer I'm my last year in books by gone times. Maybe I read 8-10 books a year. Especially novels, but also a non-fiction book here and there. In concrete terms: These books I bought last year (Prices are as of July 20, 2014, amazon.com):
Ronnie O'Sullivan – Running – $ 5.99 – N / A
Ernest Hemingway – The Sun Also Rises – $ 8.06 – N / A
Tom Rachman – The Imperfectionists – $ 7.99 – N / A
Khaled Hosseini – And the Mountains Echoed – 7.50 $ – N / A
Sara Gruen – Water for Elephants – $ 8.52 – Available
Daniel Kahneman – Thinking, Fast and Slow – $ 2.99 – N / A
Michael Frayn – Skios – 8.89 $ – N / A
Mark Watson – Eleven – $ 9.73 – N / A
Simon Winchester – The Meaning of Everything: The Story of the Oxford English Dictionary – 9, $ 99 – N / A
The average price of my books on the Kindle is U.S. $ 7.74. So I would get along with 69.66 per year. I had paid just under 120 Da says the economist in me (and my three year old niece): No
Much Important: There are indeed 600k titles on Kindle Unlimited available, but of my 9 books ordered just a single one. For me, the offer is mainly because completely unusable. According to the Washington Post is looking for the top 5 of the NYTimes bestseller novels at Unlimited also vain. For the 3 books I've just on my to-read list, is 2-1 for not available. Once I had completed Unlimited and the first book that I find interesting is not it, I would grumble, then terminate at the second rivet. Just imagine that I would of 9 albums will not find on Spotify 8. Here, too, a: No
Conclusion:!. Unfortunately very unausgeprägtes For my reading habits a bad deal, nor Kindle Unlimited and I have no friends
To Kindle Unlimited to use the way you need a Kindle, but can the app, for example, to retrieve into your iPhone or Mac. Generally I think the Kindle is also a great deal, only the "flat rate" offer is not for me.
Here you find all available from Amazon Kindles at a glance. What do you think ? Are your reading habits different than mine? Would you Unlimited Kindle Book for the equivalent of 7.49 euros? How much is the price in DE is then actually be – if it ever gets that far here, with book prices and so on – is not clear. Amazon said:. Stay tuned