One year after the launch of the Kindle Voyage in the United States took the Tolino Alliance at this year's Frankfurt Book Fair with the new edition of Tolino Vision and Tolino Shine a double blow to Amazon, and presented the first own e-reader with high-resolution display.
Specifications
The new Tolino Vision 3 HD differs from its predecessor Vision 2 on paper only by the display, the new Shine 2 HD has compared to the Shine missed getting a slimmer body. The price has risen for both models compared to the previous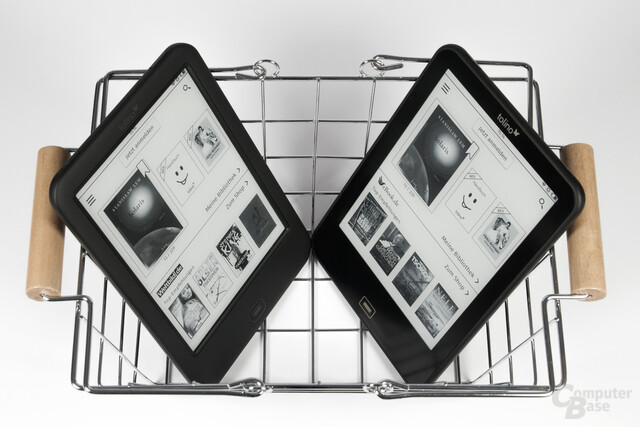 Tolino Vision Shine 2 HD and Vision 3 HD
New resolution and old problems
The high resolution display of E Ink including current Carta technology solves both devices now with 1,072 × 1,448 pixels on what in a pixel density of 300 ppi results and the two readers can enter into direct competition with the current Kindle Voyage and Kindle Paperwhite. In direct comparison to the Kindle family the new Tolino readers have a slightly lighter background, but at the same time is also illuminated somewhat uneven. The brightness is also different between the two devices, the Vision 3 HD offers the visible lighter panel.
Upon request, as bright as Amazon's Kindle
In terms of luminous paint both brothers could be different not: While the Vision 3 HD drifts slightly bluish, the Shine 2 HD comes up with a rather yellowish display. The panel of the Kindle Paperwhite contrast seems essential neutral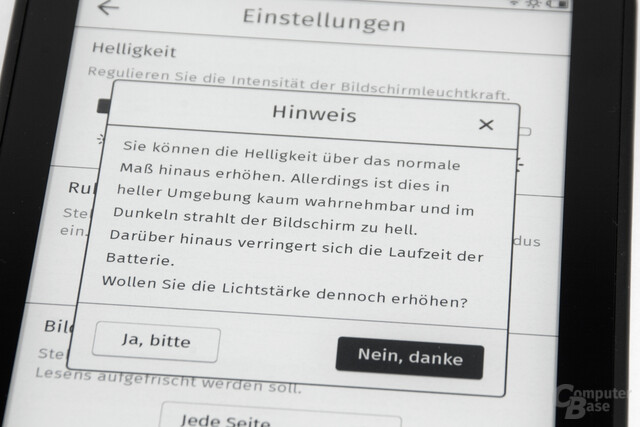 A higher brightness can be manually unlock
ghosting problems only partially corrected
The body responsible for development of the readers German Telekom had announced 2 HD for the presentation of the Vision 3 HD and Shine, which is caused by the inversion at the change of short black screen flicker when you switch almost to have eliminated. However, this is only true as long as the inversion is disabled in the default settings. However, this has the consequence that the background of the reader after prolonged reading through residual fragments having no more uniform color. The current E-Ink technology, the ghosting problem therefore can not be entirely avoided, even when compared with older generations of readers, the problems have improved significantly. The best representation of results are still achieved when each leaves an inversion is performed. At the speed at the change this has also in the new Tolino models only minor influence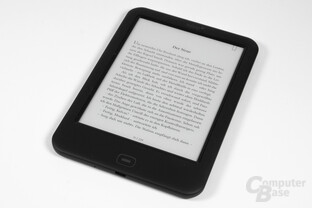 text display on the Tolino Shine 2 HD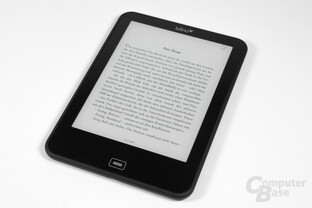 text display on the Tolino Vision 3 HD
A to make binding statement on the music speed is difficult because both devices often behave differently. Despite the same technical foundation times scrolls the Vision 3 HD, the Shine 2 times faster HD. The same behavior can also be observed in comparison to the current Kindle Paperwhite.
If encompassing turning causes
/pixel.quantserve.com/pixel/p-89EKCgBk8MZdE.gif" border = "0 "height =" 1 "width =" 1 "/>